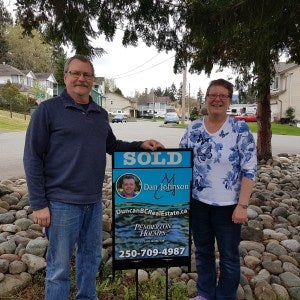 SOLD in 7 days for $25,000 OVER ASK!
HUGE CONGRATS to Bruce & Lisa. I also wanted to say a big "thank you" for all their hard work as this is always a TEAM EFFORT! This couple are a shining example of how to effectively show and sell your home. One of the key factors with selling a home is to make it "easy to show". Every time I had a showing request they always just simply said "YES". In this market it has become common place to reserve the right to hold off on reviewing offers until such and such a date (normally a handful of days). This method only effectively works if you open the floodgates with allowing showings and for the sellers it means that you'll be "living on the street" for about 5-7 days! On the plus side… you get to eat out a lot!
Here are a few key factors you might want to jot down if you're thinking of selling…
Have professional photos done! If your home looks awesome, people are going to want to see it! Everyone starts by looking online.
Have professional floor plans done up that are super easy to read.
Leave all the lights on when you leave.
Make sure the house is decluttered and looking like a million bucks!
Keep all walking areas cleared and open so people don't feel crammed.
Make sure the home smells clean and fresh. Good to air it out (especially the bedrooms).
Keeping the home well maintained sure doesn't hurt either (as was the case with this home).
Have a list of improvements available so buyers can see what you've done.
You want to make sure you hire a great REALTOR® who is going to be diligent with all the details. There are a TON of details that go into making sure that your home gets marketed properly. If some of those details are not submitted correctly it can be devastating to your listing. One of the most common mistakes I see is when someone neglects to fill in certain data fields such as the size of your property, the size of the house or the number of bedrooms. When people are set up on automated searches and these fields are not filled out correctly (or at all), buyers will not even know that your home is listed unless they do an independent search!!!
BTW ~ I have only scratched the surface with the above notes. If you ever want to chat with me about listing your home and ALL of the important details in that process I'd be happy to speak with you any time! Call, text or email me. wrkn4you@gmail.com or 250 709 4987.
Happy selling!
Dan.